When it comes to really elegant, eclectic, fine-tuned home decor, it's all in the details. Even an element as basic as shelves can be spruced up into something functional yet beautiful. Simple white shelves can be slightly tweaked with an antique or new accessorie to make them something special.
If you have the time, the ideal route to take is finding reclaimed, re-purposed vintage shelf brackets and making them your own. Just picture the cool look of the juxtaposition of the simple modern white shelf mixed with an old, detailed vintage bracket.
Or this great rusted white bracket would look so great with a chunky wood shelf.
You can find them at yard sales, in thirft stores and in antique shops. Just google 'antique shelf brackets' and you'll come up with an endless list of reasonable functional accessories for your shelves, in a variety of styles, colors, shapes and sizes. Often you'll find a really great shape and detail, but it's rusty or needs a paint job. No worries, you can sand off the rust and add a coat of glossy paint.
Look, these are so pretty and unique and they have silhouettes of birds embedded into the design. I love them!
Look at this tattered antique. The dealer thinks it may have been used in an old Camel cigarette display, but it's a really cool and unique shelf bracket.
Keep brackets in mind the next time you are rooting through your parent's attic or at the local yard sale. See what you can come up with. Or you can find some really lovely shelf brackets at Anthropology. More expensive and not at all vintage or antique, but they do have a beautiful selection in their home section.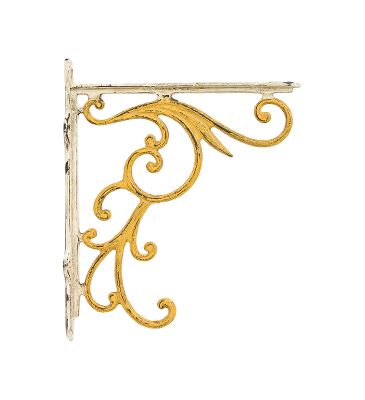 Now you can add some personality and detail to your standard Ikea or Target shelves. I heart Ikea as much as a freshman college kid who has $20 bucks to her name and a whole room to fill, but I must say that I think their stuff works best mixed with interesting, unique vintage pieces.